Father's Day is a special occasion to show appreciation for the amazing dads in our lives. This year, why not surprise your dad with a heartfelt, handmade gift?
Finding the perfect gift for your dad can sometimes be a challenge, but creating something with your own hands adds a touch of thoughtfulness and personalisation that he will truly appreciate. One such heartfelt gift idea is making an apron for your dad. Whether he's a grill master, an avid chef, or simply enjoys tinkering in his workshop, a handmade apron can be both practical and sentimental
In this blog post, we'll guide you through the process of creating a personalised DIY apron, step by step, allowing you to tailor it to your dad's unique style and preferences. Get ready to embark on a creative journey that will result in a memorable gift that your dad will cherish for years to come. Fun idea: You can also create it as a fun project for your dad!
Create a DIY apron for Father's Day

Step 1: Gather materials and tools for this Father's Day project
Fabric: Choose a durable and washable fabric like

denim

,

cotton

, or cr

aft fabrics.

Approximately 1 to 1.5 yards (0.9 to 1.4 metres) should be sufficient depending on your dad's size.

Sewing machine or needle and thread.

Scissors.

Measuring tape.

Pins.

Ribbon or

tape

for the neck strap and waist ties.

Optional: Pockets, fabric paint, or other embellishments.
One fantastic way to personalise a gift is by creating a custom apron that reflects your father's unique style and preferences. Think about his favourite colours, hobbies, or even his signature catchphrase. Consider adding embroidered patches, fabric paint, or appliques that represent his passions, such as sports teams, fishing motifs, or a monogram of his initials. 
By infusing these personalised touches into the apron, you're not only crafting a practical accessory but also a heartfelt token that showcases the thought and effort you put into making this Father's Day gift truly one-of-a-kind.
Step 2: Measure and cut the fabric
Measure your dad's waist circumference and desired apron length. Add a few inches to the length for hemming and adjust the width according to your preference. Cut the fabric to these measurements, making sure to have a rectangular shape.
Step 3: Create the neck strap and waist ties
Cut two long pieces of ribbon or twill tape for the neck strap. Their lengths will depend on how you want the apron to fit. Cut two longer pieces for the waist ties, ensuring they are long enough to tie comfortably around your dad's waist.
Step 4: Hem the sides
Fold the edges of the fabric towards the backside by about 1/4 inch (0.6 cm) and press them. Then fold them over again by 1/4 inch (0.6 cm) and press. Pin the hems in place, and sew along the folded edge to secure them. Repeat this process for both sides of the apron.
Step 5: Create the top hem
Fold the top edge of the apron down by about 1 inch (2.5 cm) and press it. Then fold it over again by 1 inch (2.5 cm) to create a clean hem. Pin it in place and sew along the folded edge, leaving enough space to insert the neck straps.
Step 6: Attach the neck straps
Slide the ends of the neck straps into the opening you left in the top hem. Make sure the straps are centred and extend evenly from each side. Pin them in place and sew across the top hem, securing the straps.
Step 7: Attach the waist ties
Fold the edges of the waist tie pieces towards the backside, similar to how you did the side hems. Position them at the desired location on the sides of the apron, keeping them even and leaving enough length to tie comfortably. Pin them in place and sew along the edges to attach them securely.
Step 8: Add pockets or embellishments
If you want to add pockets, cut pieces of fabric, hem the edges, and sew them onto the front of the apron. You can also personalise the apron by using fabric paint to write or draw something meaningful to your dad.
Looking for more inspiration?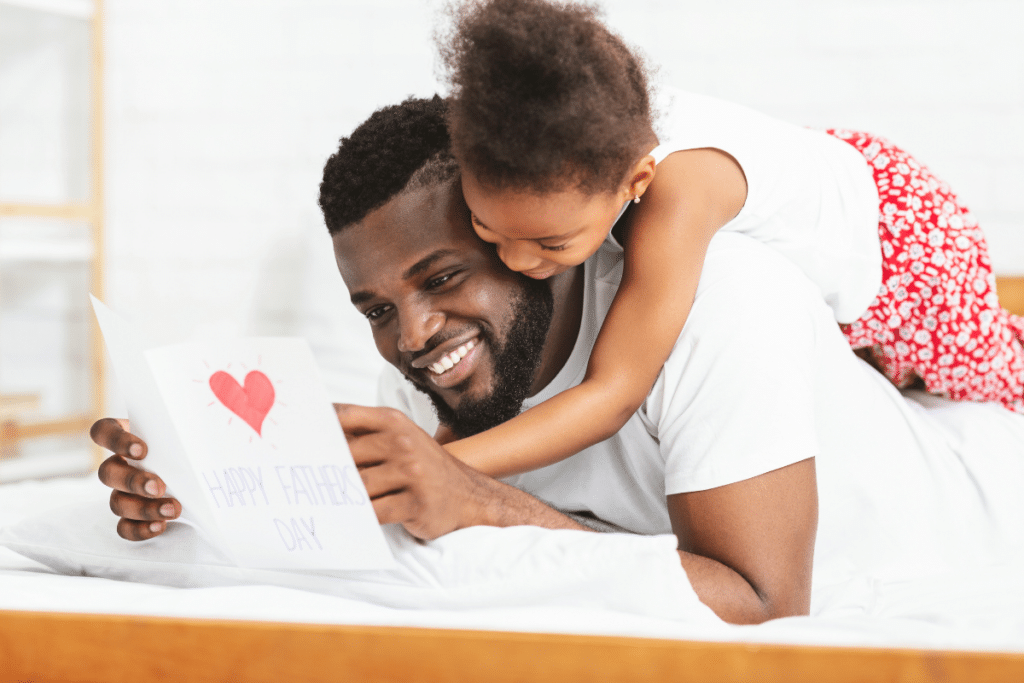 Thank you for joining us in this DIY apron guide! We hope you enjoyed this Father's Day project. If you have any inquiries about our apron-making process or need assistance with upholstery fabrics, we are here to help.
Don't hesitate to reach out by completing our online form or giving us a call at 0116 40 30 269. We are eager to hear from you and provide any further information you may need. And if you're interested in exploring more fascinating topics related to fabrics, be sure to check out our other captivating blog posts. Happy crafting!