Pet-friendly upholstery
Pet-friendly fabrics are easy to clean, resist stains, and repel hair - the perfect choice for cat and dog owners.
Fabric face mask
Browse a wide selection of fabric perfect for homemade and face masks and fashionable face coverings available in various materials and patterns.
Craft fabrics
New year, new hobby? From quick sewing projects to detailed dressmaking, find all the fabric for your craft fabrics hoppy in 2021.
I received my fabric order today 17/03/22 and I am quite astonished at the quality of the order, to say I'm delighted is an understatement, it was very well packaged and labeled but the biggest surprise was the quality of the fabric, superb goes a little way to describing this beautiful item, so much so I will be ordering more as soon as possible. Can anyone help me to place an order direct with your company, even just a hint. Again, thank you from a very satisfied customer.
Great fabric and quickly delivered
Judith Hartley
2022-01-24
Amazing service and very fast delivery!!! I ordered a fox printed fabric to re-do a cushion. Fabulous product, I'm really pleased, would definately use them again!!
Excellent service very quick delivery and quality of vinyl faux leather cloth very happy
Prompt delivery, goods as hoped for!
Gurinder Singh
2021-07-26
I have used Discount fabrics for a while now and can honestly say the customer service and quality of material is outstanding. Whenever I have needed a quick turnaround Discount Fabrics have sorted me out. Could not rate the company highly enough.
Wonderful customer service, the quality of fabrics are amazing and you get a substantial choice. Would highly recommend this business to anyone in need of excellent fabrics!
Great service. Friendly and really speedy! Would use again.
Highest Quality Performance Fabrics
Being Digitally printed, our Panel Fabric has extra colour vibrancy and detail in each exclusive design. Each design is available
Muslin is a lightweight, sheer, breathable and loosely woven fabric made from 100% cotton. It's smooth in texture, is lightweight
A plain-woven textile material, Calico is a coarse fabric that is durable, strong and extremely affordable and is made from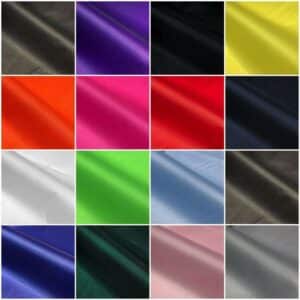 Waterproof Ripstop is a wonderful new regular line of Waterproof Ripstop Fabric. It features a Ripstop fabric is a thin, lightweight
Hessian is a 100% biodegradable fabric that is made from long-lasting jute and designed with a durable woven texture. Hessian
Super Velvet is a wonderful new regular line of Polyester Velvet Fabric. It features a sumptious Pile Weave perfect for
Organza is a thin, plain weave, sheer fabric that is lightweight and breathable with a low density, meaning that the